EXHIBITIONS
James Hamilton has been guest curator of some important exhibitions.
Turner and the Scientists
(Tate Gallery 1998)
Turner: The Late Seascapes
(Clark Art Institute, Williamstown and touring to Manchester and Glasgow; Catalogue: Yale University Press, 2003)
Turner's Britain
(Gas Hall, Birmingham; Catalogue: Merrell Publications, 2003).
Turner & Italy
(Ferrara, Edinburgh and Budapest, 2008-09
VOLCANO – from Turner to Warhol
(Compton Verney, Warwickshire 2010)
Making Painting – Helen Frankenthaler and J M W Turner
(Turner Contemporary, Margate, 2014.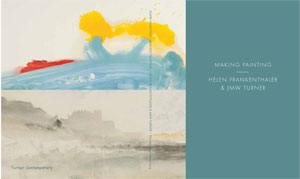 Making Painting:
Helen Frankenthaler and J M W Turner
Turner Contemporary, Margate 
25 January 2014 – 11 May 2014
Making Painting explores the timeless act of painting through the work of two artists separated by one hundred years and nearly four thousand miles: J M W Turner (1775-1851) and Helen Frankenthaler (1928-2011).
It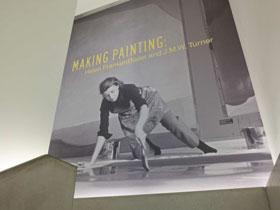 is the excitements of this conjunction between a Romantic nineteenth-century Briton and an abstract expressionist twentieth-century American that the exhibition seeks to evoke, revealing the fellowship that the two artists share in paint across their temporal divide, and the vibrant correspondences which uncover something of the timeless cerebral foundations of landscape art. These two artists could only have met and talked in our imaginations: so bringing their work together takes imagination just one small step further towards reality and allows us to examine values common to both.
'A joyous exhibition, full of vitality'
Times Higher Education

'Such dissolving forms and Frankenthaler's delight in paint itself are matched in Turner's works, which progress from early bucolic scenes to skies of riotous swirling.'
The Guardian Guide

'Naturally, leaves you hungry for more.'
Fisun Guner, Arts Desk

'Traverses sea, space and time.'
AnOther Magazine

An inspired curatorial pairing'
Michael Bird, Daily Telegraph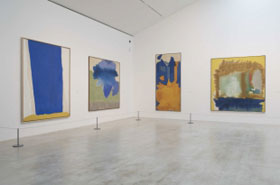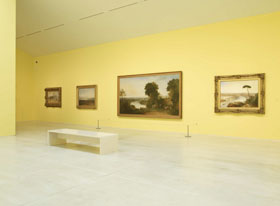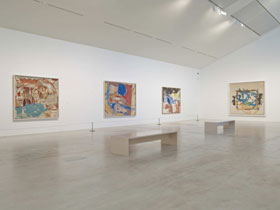 As Curator of Art at Portsmouth, Wakefield and Sheffield, and as Director of the Yorkshire Contemporary Art Group in Leeds, James Hamilton organised dozens of exhibitions in the 1970s and 1980s, including:
Wilhelm Lehmbruck 1881-1919: Sculpture, Painting, Graphic Work
On loan from the Wilhelm-Lehmbruck-Museum, Duisburg (Portsmouth, 1974)
Arthur Rackham 1867-1939: Illustrations, Drawings and Watercolours (Sheffield, Bristol, V&A, 1980-81)
Edmund Dulac 1882-1953: Illustrator and Designer (Sheffield, Bristol, Geffrye Museum, London,1982-83)
25 from 51 – Paintings from the Festival of Britain (Sheffield and Birmingham 1978)
Artist in Industry (Sheffield, Rotherham, Halifax, Huddersfield, Edinburgh, Bolton, Hull, Barnsley and London Royal Festival Hall, 1983-84)
The Danish Show: Paintings (Yorkshire Contemporary Art Group, in conjunction with the Danish Ministry of Culture, Bradford, Coventry, Hull and Newcastle 1986/87)
Tradition and Innovation in Printmaking Today: A New Collection of Prints for Rank Xerox (Yorkshire Contemporary Art Group, Milton Keynes, Hull, Edinburgh, London Barbican and Portsmouth, 1986-87)
New Art in Yorkshire (Yorkshire Contemporary Art Group, 1987)
Yorkshire Contemporary Art Group: Report 1986