BOOKS
Four major biographies
CONSTABLE
Published in the UK by Weidenfeld and Nicolson, ON SALE: 17th February 2022
ONE OF THE TIMES AND SUNDAY TIMES' BEST BOOKS FOR 2022
John Constable, the revolutionary nineteenth-century painter of the landscapes and skies of southern England, is Britain's best-loved but perhaps least understood artist.
His paintings reflect visions of landscape that shocked and perplexed his contemporaries: attentive to detail, spontaneous in gesture, brave in their use of colour. What we learn from his landscapes is that Constable had sharp local knowledge of Suffolk, a clarity of expression of the skyscapes above Hampstead, an understanding of the human tides in London and Brighton, and a rare ability in his late paintings of Salisbury Cathedral to transform silent suppressed passion into paint.
Yet Constable was also an active and energetic correspondent. His letters and diaries – there are over one thousand letters from and to him – reveal a man of passion, opinion and discord, while his character and personality is concealed behind the high shimmering colour of his paintings. They reveal too the lives and circumstances of his brothers and his sisters, his cousins and his aunts, who serve to define the social and economic landscape against which he can be most clearly seen. These multifaceted reflections draw a sharp picture of the person, as well as the painter.
James Hamilton's biography reveals a complex, troubled man, and explodes previous mythologies about this timeless artist, and establishes him in his proper context as a giant of European art.
Constable – A Portrait. Press reviews
As rich with colourful characters as any novel . . . As a biographer, Hamilton is a patient, perceptive portraitist, attuned to every swerve in the currents of Constable's life . . . Hamilton captures particularly vividly the timbre of relationships and the textures of Constable's day-to-day life … drawn to such rich, multi-vocal effect. ― Michael Bird –  Sunday Telegraph

The lively art historian James Hamilton reveals the "complex, troubled man" in this biography of the landscape painter John Constable ― The Times, Best books coming out in 2022



An eye-opening biography . . This life of the celebrated landscape painter is full of surprises . . . James Hamilton is rightly famed for his biographies of J M W Turner and Thomas Gainsborough . . . the most fascinating pages in Hamilton's book come from his close scrutiny of Constable's canvases . . . its magnificent colour plates lift it on to another plane. They track Constable's career from the early portraits to exciting sky effects. Such illustrations make Constable: A Portrait a treasure — John Carey ― Sunday Times

One of the many merits of James Hamilton's estimable biography is to show Constable's long struggle towards acceptance and his insistence, against the evidence, that "there is room enough for a natural painture" . . . As the biographer of Gainsborough and Turner, Hamilton is a practised hand when it comes to 18th- and 19th-century British art, and it shows. He moves deftly between Constable's personal and professional life and the network of relations and patrons that kept him afloat, and he is just as attuned to the radical aspects of Constable's art. In his pictures, as Hamilton shows, nature does not stand decorously stand still but becomes a pulsating, living entity. — Michael Prodger ― New Statesman

Absorbing . . . [with] judicious use of Constable's extensive correspondence and other writings, drawing deeply on these rich resources to bring the artist's own words into the heart of his book. Hamilton is particularly illuminating on Constable's early life …. young Constable is avid for intellectual companionship and conversation about books, painting and poetry . . . Hamilton is an astute judge of his subject's complex character . . . Constable may be a challenging subject, but Hamilton's deft use of his compelling voice keeps the narrative moving — Susan Owens ― Literary Review

[A] major new biography . . . Hamilton seeks here to unpick the over-worn view of Constable as the proto-French plein air Impressionist landscapist and furnishes an elegant portrait of the man, and of his times . . . The outcome is the first full-scale biography . . . Hamilton deftly depicts a mind that evolves out of the drab discipline of his early portraiture and the continuous copying of old masters . . . presenting not an intellectual rebel, but a man of staunch political rectitude . . . it boasts the sophisticated highly keyed handling of a variegated interwoven cast of characters. There are 124 in all, and he traces their interactions and interconnectedness. The story is written in an often racy narrative and is made up of 47 short, dense and well-footnoted chapters, almost filmic in pace. ― Anthony Mould –  Catholic Herald



This beautiful biography captures its subject's enchanting, clever, argumentative personality with considerable grace . . . One of this biography's many pleasures is its descriptions of the wide range of people Constable liked or was interested in . . . Hamilton has also written terrific biographies of both Turner and Gainsborough; and in one of the best works of art history of recent years he explained the 19th-century London art market with superb clarity . . . This expertise makes his discussion of Constable's suspicious and tentative engagement with prints of the great landscapes particularly interesting . . . The sense of London society and of the warm humans who populated it, not least Constable's wonderful wife Maria, have an almost novelistic quality. — Philip Hensher ― The Spectator

Wonderfully deft and vivid . . . This Constable emerges from his travails as a colourful as well as dogged character, with a piquant turn of phrase ― Michael Prodger –  Country Life

Delightful, lively and warm-hearted . . . To read this book is to be taken to the best and worst of the early 1800s: the glorious civilisation of it all, the charm and beauty of 'Constable Country' which he immortalised, the wild cragginess of Hampstead Heath, the gaggles of rosy-cheeked children; but alongside it the snootiness of the highborn towards the low-born, and the constant terror of an early death. — Ysenda Maxtone Graham ― Daily Mail



Gives us an account of the man himself in all his complexity, drawing on his vast correspondence and diaries . . . Hamilton writes beautifully and his style is so engaging that the pace of this mighty work clips along. Highly recommend ― The Field



The Constable of James Hamilton's illuminating biography is a radical, an artist possessed of an "experimental burn" to paint the skies and seasons in new lights . . . Hamilton is an assured and insightful guide. He upturns assumptions and encourages you to look with keener eyes — Laura Freeman ― The Times

Well researched and illuminating … reshapes Constable's quintessential Englishness not as a failing of provincialism …. But as the force behind his art. – Alexander Larman, The Observer



Another tour-de-force of historical imagination. . . it is one of the many delights of Hamilton's book that we enter the encircling group of encouragers who supported him — Lucy Lethbridge ― The Oldie



In this illuminating and insightful biography, James Hamilton suggests that we have got Constable all wrong . . . delightful and warm-hearted ― The Week

A big, immersive read, as gripping as any fiction ― Saga
---
GAINSBOROUGH – A PORTRAIT
Published in the UK by Weidenfeld and Nicolson, 2017
Frank, lucid and modern, this is a fresh portrait of Thomas Gainsborough, the most sensuous artist of the eighteenth century.
Thomas Gainsborough (1727-1788) lived as if electricity shot through his sinews and crackled at his finger ends. He was a gentle and empathetic family man, but had a volatility that could lead him to slash his paintings, and a loose libidinous way of speaking, writing and behaving that shocked many deeply. He would be dynamite in polite society today.
In this exhilarating new biography – the first in decades – James Hamilton reveals Gainsborough in his many contexts: the easy-going Suffolk lad, transported to the heights of fashion by a natural talent; the rake-on-the-make in London, learning his art in the shadow of Hogarth; falling on his feet when he married a duke's daughter with a handsome private income; the top society-portrait painter in Bath and London who earned huge sums by bringing the right people into his studio; the charming and amusing friend of George III and Queen Charlotte who nevertheless kept clear of the aristocratic embrace.
There has been much art history written about this chameleon of art, but with fresh insights into original sources, GAINSBOROUGH: A PORTRAIT transforms our understanding of this fascinating man, and enlightens the century that bore him.
'Delightfully racy', Rachel Campbell-Johnston, The Times.

'A fine and empathetic portrait'
Michael Prodger, RA Magazine.

'Gorgeously illustrated and compulsively readable – the pages seem to turn themselves. Almost as good as owning a Gainsborough.'
John Carey, Sunday Times.

'A wonderful new biography … Hamilton is fascinating on Gainsborough's experimental and innovative technique.'
Lucy Lethbridge, Financial Times.

'A richly humane biography … an astute yet generous book.'
Kathryn Hughes, Guardian.

'Hamilton is a first-rate art historian who has written an excellent life of Turner and a superlative book on the 19th-century art industry, A Strange Business … This is an enjoyable biography by a writer who understand him.'
Philip Hensher, Spectator.

'A shrewd and entertaining biography … [which] brings one of the greatest artists vividly to life.'
Robin Simon, Literary Review.

'A wholly absorbing biography [written] with verve and enthusiasm.'
Marina Vaizey, theartsdesk.com.

'Glitters from beginning to end.' Jonathan Wright, Catholic Herald.
---
Turner – A Life
Published in the UK by Hodder and Stoughton, 1997 [Spectre paperback]
US, Random House, 2002, paperback edition, 2007
J. M. W. Turner, the greatest painter of landscape the world has ever known, exhibited his work proudly but was correspondingly reticent about his private life. In 1799, aged 24, he became an Associate of the Royal Academy at the youngest possible age, and, with a high awareness of his own worth and entrepreneurial cunning, demanded and achieved the highest prices. While influential collectors competed to buy his paintings, Turner travelled widely in Britain and Europe, observing the landscape and the people, and collecting material for a cycle of images that would be engraved, circulated widely and come to express the collective identity of Britain.
In this lucid blend of vibrant biography and acute art history, James Hamilton introduces Turner to a new generation of readers. Hamilton scotches many Turner myths – his 'meanness', his 'reclusiveness' – and paints a picture of a uniquely generous human being, a giant of the nineteenth-century and a beacon for the twenty-first.
'Turner was a phenomenon, a one-man artistic revolution whose energy can be felt through the pages of this inspiring biography'
Alan Judd, The Daily Telegraph

'Hamilton's readable, unshowy life … excellent'
Philip Hensher, The Mail on Sunday

'Admirably clear' Desmond Shawe-Taylor, The Observer

'Hamilton writes … with gusto, bringing Turner to vivid three-dimensional life'
Andrew Wilton, The Times

'Hamilton's life gives us a real person … comprehensibly human and belonging clearly in the England of his time' Duncan Macmillan, The Scotsman

'At last: the Turner veil is lifted. Hamilton writes with wit and understanding, and is able to give a more complete picture of Turner's generous and energetic personality than was possible before.' John Jacob, Hampstead and Highgate Express

'This splendid book … is part spirited biography and part shrewd cultural history. This is a significant work that does deserved justice to an artist most critics rank as one of the greatest landscape painters. … Art historians will find it obligatory reading. It should also find a place on art students' recommended reading lists'
Graham Wilde, South China Morning Post

'A pleasure to read' A. S. Byatt, Sunday Express

'Brilliant' Ian Collins, Eastern Daily Press

'An excellent biography – revealing on the life, perceptive on the art'
Christopher Hirst, Independent on Saturday

'James Hamilton is an outstanding biographer. He reveals Turner's world for all its wild contradictions and, like Turner, brings to life what the eye cannot see.'
Amanda Foreman
Review extracts from US journals for Turner – A Life; Random House, 2003
'A richly detailed biography … Hamilton maintains a steady course between academic respectability and an allowance for the drama and poignancy so clearly central to an accurate portrait of the subject.'
Los Angeles Times

'Meticulously researched … Turner is a fascinating subject, and Hamilton is an erudite commentator … His writing soars.'
Columbia Dispatch

'Very satisfying … detailed, judicious and confidently grounded in the period.'
Washington Post

'A splendid, masterful portrait of the master painter. … The thoroughness of research and facility in its application here are gratifying. The lucid descriptions of Turner's paintings are extensive but easily accessible.'
Kirkus Reviews

'An affectionate, dignified study'
Publishers Weekly

'[Hamilton] gives us a lively picture in which his thorough research rarely weighs down a speedy narrative rich in anecdote, with just the right balance of facts and analysis.'
Seattle Times

'This lively biography'
The New Yorker

'Hamilton relishes Turner's unbounded inquisitiveness, prodigious physical stamina, edgy outlook, fascination with contrast and balance, and frank refusal to marry and live a conventional family life. Through in depth and thoroughly enjoyable analyses, Hamilton provides a wealth of information and insights.'
Booklist

'Hamilton writes attractively … a lively picture of Turner's personality and his immediate circle.'
The New Republic

'[Turner] has found in James Hamilton a sympathetic and scholarly biographer worthy of him. … [Hamilton] is judicious: an admirer but not a starry-eyed hero worshipper … able to narrate in a lucid, entertaining style.' Berkshire Eagle

'Well researched and fluidly written'
New York Review of Books
---
Faraday – The Life
Published in the UK by HarperCollins, 2002; US, Random House, 2004
Michael Faraday is one of the giants of the history of science. A self-made, self-educated man, his public life was underpinned by his devout membership of a small Christian sect, whose rigid attitudes shadowed him at every turn, culminating in a crisis that tested his resolve as a scientist, his faith as a Christian and even the balance of his mind. Yet he became the greatest scientist of his day, and the central figure of an extraordinary scientific renaissance in London. At the age of 21 Faraday secured a position as laboratory assistant to Sir Humphry Davy at the Royal Institution. He rapidly overtook Davy as Britain's most celebrated scientist, and his work at the Institution as a gifted experimenter and inspiring lecturer gave unprecedented impetus to public understanding of science over the course of nearly half a century.
Faraday – The Life captures the excitement of the explosive mixture of scientific and other cultural activity in London during the first half of the nineteenth century, and radically reshapes our perceptions not only of Michael Faraday, but of the interaction of artists and scientists at the dawn of the modern age.
'clear, accessible life. … In defining his subject's genius, Hamilton draws on his own grounding, not in science but in art history, as the biographer of Turner. This approach is perfect for a man who worked not with mathematics but with images … and Hamilton's prose takes fire. This lively new biography throws a different, highly illuminating beam on the forces that charged Faraday's imagination.'
Jenny Uglow, Sunday Times

'Hamilton's descriptions of experiments and their outcomes are marvellously pictorial and humorous … the reader might almost have been there. … If you enjoy having the great and the good from the distant past brought back to life (warts and all), then this is recommended reading.'
Jacqueline Reynolds and Charles Tanford, Nature

'An illuminating new biography … Hamilton vividly conjures up the excitement of the lecture theatre, the difficulties of travel in Napoleonic France, and the stinks and bangs of the laboratory. He draws intriguing connections between Faraday's aesthetic appreciation … with his subsequent insights into the wave-like nature of electricity and magnetism. … This exemplary study adds new depth to our understanding of a brilliant and complex man.'
The Economist

'Hamilton … delivers a fine portrait of the quintessential Victorian. His deft handling of sources and texts brings to life the Faraday who was viewed by his peers as an 'exemplar of contemporary life'. Hamilton's work is not just worth a read for the superbly crafted writing, but also for the many resonances this book has for today's society.'
Golden Bannon, Sunday Business Post

'Faraday's story is elegantly told by James Hamilton'
William Reville, Irish Times

'well-researched … exhaustive biography. 400 pages which brim with incident and ideas, characters and accidents with a wealth of authentic detail'
Ben Woolley, Guardian

'Faraday: The Life is full of rich and fascinating material. … Hamilton's biography humanises Faraday, and sets him convincingly in the context of Romantic sensibility.
Lisa Jardine, The Times

'Michael Faraday could not have had a better biographer … [Hamilton] is comprehensive, lucid, literate, unfailingly intelligent.'
Tom Fort, Financial Times

'Hamilton is a … good biographer who provides a delightful and well-illustrated account of Faraday's life. Few historians of science write as well as Hamilton, and he gives us an insight into Faraday's unusually sweet nature, his remarkable lectures and his wide-ranging cultural interests.'
Terence Keeley, Sunday Telegraph

'[an] inspired fusion of science and aesthetics'
Christopher Woodward, Spectator
---
Two books about art, science and society in nineteenth century Britain
London Lights: The Minds that Moved the City that Shook the World 1805-51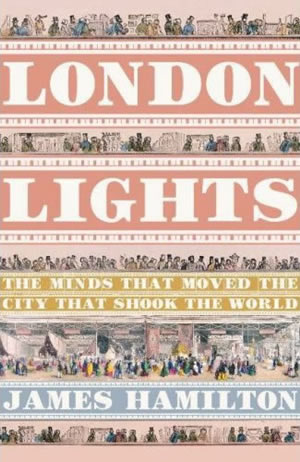 Published by John Murray, 2007.
Teeming with characters, incident and ideas, this vibrant narrative offers a fresh and original perspective on artistic and scientific London in the Regency and early Victorian periods.
'Hamilton's wonderful gallop through 40 of London's finest years is impressively researched, somewhat romantic, enjoyable and engrossing. It is, I have to say it, decidedly illuminating book.'
Michael Moorcock, Daily Telegraph

'Packed with memorable figures ranging from the bustling Faraday to the grouchy Turner, Hamilton's account of London's transformation … is an exceptional example of literary time travel.'
Independent

'well-written, intelligent and entertainingly instructive'
Philip Ziegler, The Spectator

'What a wonderful book … Read it and enjoy'
BBC Focus

'This book … perfectly encapsulates one of the most industrious and creative periods in the city's history … It is effectively the biography of half a century and … a vivid account of why not only London but Britain as a whole was once top dog.'
The Londonist

'This hugely entertaining book … The author writes with a passion for his subject that is contagious. We are in awe of the research he must have done and the way he brings it to life.'
Ryedale Gazette and Herald

'London Lights is rich in detail, a proverbial plum pudding of a book … The vitality of the time is caught brilliantly.'
Publishing News

'A fascinating patchwork of lives lived in the pursuit of great things.'
City A.M.

'James Hamilton eavesdrops on conversations and darts between key places to conjure up a swirl of creative tumult … [and] finds eccentric characters and telling detail that can only be described as Dickensian.'
Wharf [the newspaper of Docklands]
---
A Strange Business – Making Art and Money in Nineteenth Century Britain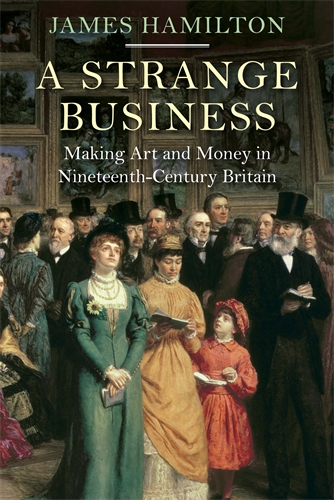 Published by Atlantic Books, 2014
Britain in the nineteenth century saw a series of technological and social changes which continue to influence and direct us today. Its reactants were human genius, money and influence, its crucibles the streets and institutions, its catalyst time, its control the market.
In this rich and fascinating book, James Hamilton investigates the vibrant exchange between culture and business in nineteenth-century Britain, which became a centre for world commerce following the industrial revolution. He explores how art was made and paid for, the turns of fashion, and the new demands of a growing middle-class, prominent among whom were the artists themselves.
While the leading figures of the world of art and literature are players here, so too are patrons, financiers, collectors and industrialists; lawyers, publishers, entrepreneurs and journalists; artists' suppliers, engravers, dealers and curators; hostesses, shopkeepers and brothel keepers; quacks, charlatans and auctioneers. Hamilton brings them all vividly to life in this kaleidoscopic portrait of the business of culture in nineteenth-century Britain, and provides thrilling and original insights into the working lives of some of our most celebrated artists.
"It is impossible to describe what this book is about; easier simply to say that it is wonderful … This is a strange gallimaufry of a book but an entirely joyous one".
Lynn Barber, Sunday Times.

"This witty, ingeniously structured book – at once a serious appraisal of a complex cultural phenomenon and a compendium of scurrilously funny stories – is not about art for art's sake, it is about work and the market. To read this book is as pleasurable as a long lunch with a first-rate raconteur … Hamilton writes beautifully … Seldom have I learnt so much from a single book while simultaneously being so excellently entertained."
Lucy Hughes-Hallett, The Times.

"Entertaining and original".
Martin Gayford, Daily Telegraph [Five Stars].

"This is a brilliant account of learning, or failing, to survive in a market of extraordinary brutality".
Philip Hensher, Spectator.

'Groundbreaking … a scholarly but humane, and richly enjoyable, survey of the symbiotic relationship between art and money in 19th-century Britain.'
David Kynaston, 'Books of the Year', Observer.

'A brilliantly engaging account of the most interesting of all subjects: how artists make their money.'
Philip Hensher, 'Books of the Year, Guardian.

'A gripping story not of artistic movements but of practicalities: who bought the art, who copied it, and how much difference new paint colours made … Hamilton is terrific on the story of how pigment production moved into the new scientific age.'
Kathryn Hughes, Guardian.

'Hamilton's fascinating and richly researched book surveys the art world from a number of different angles … It is lucid, insightful and simply gripping … This is a brilliant account of learning, or failing, to survive in a market of extraordinary brutality.'
Spectator.

'Any number of novelists and historians could find inspiration in this vivid account of how the audience for art in Britain broadened during the nineteenth century. … This is a grand entertainment as well as serious history.'
Evelyn Toynton, Prospect.

'Fascinating, compelling and timely.'
Art Quarterly.
---
James Hamilton's other books include:
The British Museum – Storehouse of Civilizations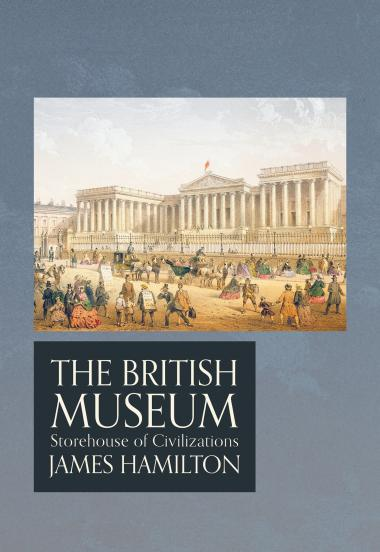 Published by Head of Zeus, in their Landmarks series.
A concise history of one of the world's greatest and most comprehensive museum collections, from its founding in 1753. A product and symbol of the 18th-century Enlightenment, the British Museum is as iconic an expression of that cultural tendency as Johnson's Dictionary, the French Encyclopedie and Linnaean plant classification. Its collections embody the raw material of empiricism – the bringing together of things to enable the widest intellectual experiment to take place. James Hamilton explores the establishment of the Museum in the 1750s (from the bequest to the nation of the collections of Sir Hans Sloane); the chosen site of its location; the cultural context in which it came into being; the subsequent development, expansion and diversification of the Museum, both as a collection and as a building, from the early 19th to the 21st century; the controversy occasioned by some of its acquisitions; and the legacy and influence of the Museum nationally and globally.
'A sparkling new history of the museum's first two-and-a-half centuries' TLS.

'A thoughtful anecdotal story, enlivened with detail, light humour and well chosen illustrations' British Archaeology.
---
VOLCANO – Nature and Culture
Published by Reaktion Books in their Earth series, 2012.
The book grew out of the exhibition Volcano – from Turner to Warhol, curated by Hamilton at Compton Verney, Warwickshire in 2010.
'An arresting collage of mythology, philosophy, literature and spectacular works of visual art inspired by nature's most exuberant phenomenon – Hamilton's unique and imaginative miscellany and cultural geography of volcanoes and volcanology is a veritable treasure trove.'
– Clive Oppenheimer, volcanologist and author of Eruptions That Shook the World.

'James Hamilton elegantly conjures up the imagery and impact of volcanic events around the world, through centuries and across continents, mastering this complex topic with an observant eye, an incisive mind and a fluent pen; it's a book to read and then keep coming back to, again and again.'
– Gillian Darley, author of Vesuvius: The Most Famous Volcano in the World.

'A fascinating read, the text covers all types of volcanoes across the world, and relates them to the paintings, wood engravings and a fresco from Pompeii. The linking of history, mythology and geological fact is flawless, providing fascinating insights into different cultures, the progress of Christianity and also the technique of painting.'
– School Librarian journal
---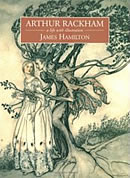 Arthur Rackham: A Life with Illustration
(Pavilion, 1990)
'With this scholarly, sumptuous and delightful book, James Hamilton has done Rackham proud.'
New York Review of Books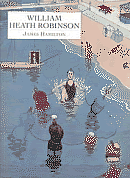 William Heath Robinson
(Pavilion, 1992)
'An affectionate and painstaking pictorial life of a rare comic artist whose work delights readers of all ages.' Observer
Wood Engraving and the Woodcut in Britain c1890-1990
(Barrie and Jenkins, 1994)
'The best book yet written on the art of this century' Alan Powers, Interiors
The Sculpture of Austin Wright
(Lund Humphries and the Henry Moore Foundation, 1994)
Short-listed for the Yorkshire Post Book of the Year Award, 1994
Hughie O'Donoghue – Painting, Memory, Myth
(Merrell, 2003)
Louis le Brocquy – Homage to his Masters
(Gimpel Fils, 2006)
The Paintings of Ben McLaughlin
(Merrell, 2006)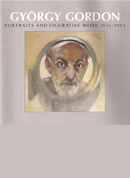 György Gordon: Portraits and Figurative Work 1956-1993
Huddersfield Art Gallery, and the National Portrait Gallery, 1994-95
Seven Lives of John Murray: The Story of a Publishing Dynasty
This was the late Humphrey Carpenter's final book. It was edited and brought to completion by James Hamilton, and published by John Murrray in 2008